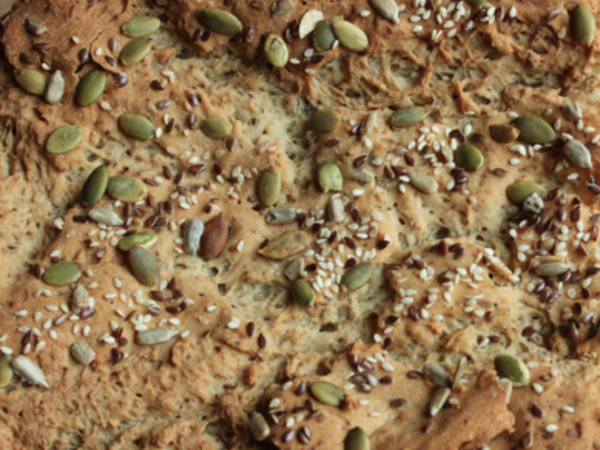 Classic Gluten-Free Loaf with Seeds
This gluten-free bread is very close in texture and taste to a regular loaf. The trick is in getting the dough/batter to the correct consistency - not too thin or too thick, as well as using a combination of several gluten-free flours.
Updated: Mon, 05/13/2019 - 8:52pm
Ingredients
1½ cups of warm water
1 packet dry active yeast (2¼ teaspoons)
4 Tablespoons of sugar
⅓-½ cup of sorghum flour, to reach the desired consistency
2 teaspoons of xanthum gum or 3 teaspoons of guar gum
1 teaspoon salt
2½ teaspoons olive or coconut oil
½ cup of seeds of your choice
¼-½ cup of millet flour, to reach the desired consistency
¼-½ cup garbanzo flour, to reach the desired consistency
¼-½ cup tapioca starch, to reach the desired consistency
Instructions
Put the warm water into a large bowl. Make it not too hot to touch and not lukewarm, but in between. Dissolve the sugar in it. Add the yeast, mixing it gently to distribute.
Once the yeast has bloomed fully, mix in enough sorghum flour to reach a thin, gruel consistency.
Add salt, oil, seeds and the xanthum or guar gum. Add the remaining flours in equal parts and mix well until the right consistency is reached - a batter that is not too wet and not too dry. Once it starts thickening towards a dough it has gone a little too far.
Oil a loaf pan. Add the batter. Smooth the top with oil. Allow to rise in a warm place until almost doubled in size.
Bake at 350° until it reaches the loaf internal temp of 180°, about 30-45 minutes. Serve! Enjoy!