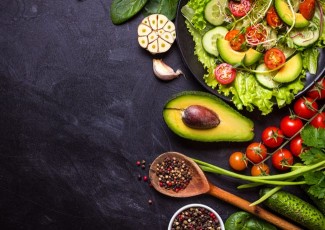 The surprise ingredient in the creamy pesto dressing is coconut cream. It blends the traditional flavors of pesto with an island twist.
Ingredients
Salad
1 head romaine lettuce, chopped
1 (10-ounce) container of grape tomatoes
3 carrots, shredded
Dressing
½ cup coconut cream
4 cups fresh whole basil leaves, loosely packed
1 garlic clove
Juice of 2 lemons or limes
½ cup pine nuts
¼ cup water
2 Tablespoons agave
Salt and pepper to taste
Instructions
Place all Salad ingredients into a large mixing bowl.
Combine all Dressing ingredients into a food processor and process until smooth and creamy.
Pour over vegetables and toss until well combined. Serve and enjoy!