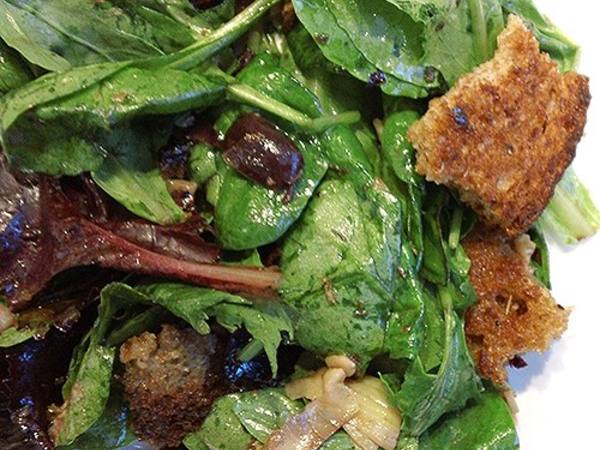 Summer Panzanella
Panzanella is an Italian-style bread salad. Leftover bread would make amazing croutons for this dish. This one features a delicious mix of vegetables and croutons for a meal-sized salad.
Updated: Mon, 05/13/2019 - 9:05pm
Ingredients
¼ cup vegan margarine
4-6 garlic cloves, minced
6 slices bread of choice
¼ cup extra virgin olive oil
2 Tablespoons balsamic vinegar
1 Tablespoon red wine vinegar
1 Tablespoon dried basil
Salt and pepper to taste
½ cup sundried tomatoes, soaked 1 hour
½ cup sliced Kalamata olives
½ cup chopped artichoke hearts
½ cup chopped walnuts
1 cup fresh basil, sliced thinly
4 cups mixed greens (spinach, arugula, lettuce, etc)
Instructions
In a small saucepan, melt vegan margarine over medium-low heat. Add garlic, and simmer on low until garlic is browned, about 5 minutes.
Layer bread slices onto a rimmed baking sheet and brush with warm margarine mixture. Broil or toast until very brown, about 5-8 minutes. Flip, and cook on second side, 3-5 more minutes. Remove from oven and let cool. Cut or tear into bite-sized pieces. Set aside.
In a large mixing bowl, whisk together olive oil, vinegars, dried basil and salt/pepper. Toss in sundried tomatoes, olives, artichokes and walnuts. Toss to coat, and let marinate 30 minutes, up to overnight.
In your largest mixing bowl, gently toss salad greens with basil, marinated vegetables and bread chunks. Divide evenly between 4 salad bowls. Serve immediately.
If serving later, keep all components separate until just before serving. Enjoy!