GMO stands for Genetically Modified Organism. GMO, also known as genetically engineered, bio-engineered, or biotech crop, is a term commonly used to refer to crops that have been genetically altered using gene-splicing technology (See the sidebar, "What Does GMO Mean, and Why Should I Be Concerned?).
I am excited to tell you that on Sunday Oct. 10th Down to Earth will have a big Non-GMO sale! You'll get at least 40% off on a wide variety of Non-GMO Verified products including entrées, pasta sauce, breakfast foods, beverages, snacks, gluten-free products, and baking items.
The sale will be the high point of our participation in the natural food industry's first Non-GMO Month. The goal of Non-GMO Month is to build awareness of the new "Non-GMO Project Verified" logo that is starting to appear on non-GMO tested product packaging across the U.S. The new logo will empower consumers to exercise their right to choose non-GMO foods. We firmly believe you have a right to choose what you eat and feed your families, and the logo will help you make an informed decision about whether you want to eat GMO foods.
The new Non-GMO logo and the protocols governing the right to use it on product packaging were developed by The Non-GMO Project. This is a non-profit organization that Down to Earth has been a part of since inception.
What Does GMO Mean, and Why Should I Be Concerned?
GMO means Genetically Modified Organism -- also known as genetically engineered, bio-engineered, or biotech crops.
GMOs have been created in a laboratory using gene-splicing biotechnology. This process allows scientists to create combinations of plant, animal, bacteria and viral genes that do not occur in nature or through traditional crossbreeding. The process is haphazard, and can lead to unintended and uncontrolled changes in the organism's DNA.
The vast majority of GMOs on the market are bred for herbicide tolerance and insecticide production. Despite biotech industry messages to the contrary, there are no GMOs available that have demonstrated increased yields, drought tolerance, nutritional superiority or any other consumer benefits. At the same time, there is a growing body of peer-reviewed research linking GMO consumption with decreased fertility, allergies, abnormalities in organs and immune response, and more.
In the European Union, all products containing more than 0.9% GMO are required by law to be labeled as such. Due to our own government's lack of initiative with similar consumer protections, the Non-GMO Project was created. If you are concerned about GMOs and would like to see them more completely researched before feeding them to yourself and your family, you can now choose "Non-GMO Project Verified" products. Find out more at https://www.nongmoproject.org
The tenth of the month, or 10.10.10, is Non-GMO Day. On this day retailers throughout the nation will conduct educational activities to raise consumer awareness about the new "Non-GMO Project Verified" logo while also raising funds for the Non-GMO Project. We are donating 5% of sales that day to the Non-GMO Project. The proceeds will help advance consumers' right to choose and will help support the long-term availability of non-GMO food and ingredients.
October 2010 Is First Ever Non-GMO Month
As retailers, Non-GMO Month and 10.10.10 are great events for us to participate in, as we have first hand experience dealing with consumer frustration and confusion regarding GMOs, how to identify them, and how to avoid them while shopping for food. We experience the same frustration when buying products for our stores. So, Down to Earth is pleased to join this industry-wide effort to establish the Non-GMO Project.
We are motivated by a simple idea. We believe that consumers in North America should have access to clearly labeled non-GMO food and products. That conviction is the guiding mission of the Non-GMO Project. It's a lot easier said than done! In the beginning, a huge part of the challenge was that—by the time the Project was started—GMOs had already been in production across the U.S. and Canada for nearly 10 years. Contamination risks to seeds, crops, ingredients and products had been steadily increasing without a standardized set of best practices to identify and stop contamination.
While this situation had previously paralyzed all efforts to address the problem, the Non-GMO Project took a different approach. They decided that the lack of a perfect solution was no excuse not to try to do something. They believed that with enough hard work and collaborative spirit they could improve the situation.
New Seal Backed by Third-Party Testing
Before the introduction of the Non-GMO Project, North America had no third-party verification program to test products for their GMO content. Many manufactures made non-GMO claims, but there was no way for you, as the consumer, to know whether or not the claims were actually true. Ideally, such claims would be backed by third-party testing. This idea is the heart of the Non-GMO Project—an independent Product Verification Program (PVP).
The PVP was designed to verify that participating companies or organizations are capable of producing and delivering products that comply with the Non-GMO Project's Standard. It verifies that participants' operations and systems comply with requirements of the Standard.
Nearly 900 products have been verified to date, with thousands more in the process. After "Verification" they are authorized to display this new logo on their packaging: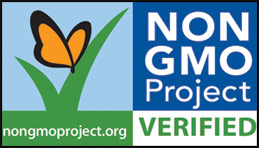 During the next few months, as manufacturers begin to include the Non-GMO Project Verification logo on their packaging, you will see more and more of the verified products on our shelves. A complete list of participating products is available on the Non-GMO Project's website: https://www.nongmoproject.org.
Down to Earth is proud to be a charter member of the Non-GMO Project. We feel strongly that our customers have a right to choose what they eat and feed their families. Many of them want to know whether the food they are purchasing contains GMO ingredients. Since Organic Certification prohibits the use of GMOs, selecting foods with the Organic label has been the only way customers could choose non-GMO foods. However, Organic Certification covers how a food is grown, not the content of the food itself. And, since food production has become increasingly compromised by cross pollination and cross contamination in processing and handling, even Organic Certification is not enough to ensure that a product is non-GMO.
What does the "Non-GMO Project Verified" logo mean?
The "Non-GMO Project Verified" logo is not a guarantee that the product is 100% GMO free. But it's close!
The protocols to grant Verification involve a comprehensive set of best practices to avoid contamination. All the ingredients must pass a test indicating that the ingredient is below 0.9% GMO (in alignment with laws in the European Union). After testing, the Project ensures that its rigorous traceability and segregation practices are followed to ensure that the tested ingredients are what get used in the product. In short, this seal means that a product has been produced according to rigorous best practices for GMO avoidance, including testing of risk ingredients.
The logo tells the consumer that GMO contamination has been avoided throughout the growth and harvesting of crops, their processing, storage and packaging. By making this information available to the public, the "Non-GMO Project Verified" label helps ensure that the customer will have the final say.
The supply of GMO-laden foods and products is increasing, although consumers remain skeptical. Often they are not aware of the meaning and potential effects of GMOs. According to the USDA, plantings of GM soybeans, corn, and cotton this year are at all-time highs: 93% of soybeans, 86% of corn, and 93% of the cotton planted in the United States is GMO. And with as much as 80% of processed foods in the country at risk for GMO contamination (according to the Grocery Manufacturers Association), it has been nearly impossible to make it out of the grocery store without GMOs in your cart!
But don't give up hope just yet…the "Non-GMO Project Verified" seal will, for the first time, give you an opportunity to make informed choices when it comes to GMOs.
For more information about Non-GMO Month visit: http://www.nongmomonth.org/.
To see Down to Earth's position statement on GMOs, please visit: http://www.downtoearth.org/label-gmos/down-to-earth-and-gmos