Tuesday, June 4, 2019 - 6:00pm
Pearlridge: Nutrex Hawaii BioAstin and Hawaiian Spirulina Seminar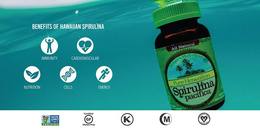 Free; no registration required. Seating will be on a first-come, first-served basis.
Held in the upstairs dining area of Down to Earth Pearlridge.
Learn about how Astaxanthin is beneficial for skin, joint and eye health naturally, as well as how BioAstin was part of Tim Marr's daily regimen while training for Ironman Triathlons around the world. Also find out how Hawaiian Spirulina is the leader in superfoods and the difference between Hawaiian Spirulina and the competition.
Tim Marr is Hawaii's Top Triathlete: Pan American Champion 2006, Top 10 in multiple World Championships, Winner of over 100 triathlons in 10-year carrier.
For more information, please call (808) 947-3249.
When
Tuesday, June 4, 2019 - 6:00pm
Where
Down to Earth Pearlridge
98-211 Pali Momi St, Suite 950
Aiea
HI 96701