Tuesday, February 18, 2020 - 6:30pm
Kahului: Free Herb Pharm Consumer Lecture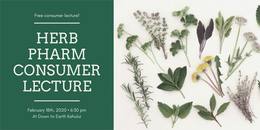 Free lecture. RSVP by 2/14/2020 with Jill Barnattan 808-357-0830 or jill@goodwindstrading.com
Join Herbalist Autumn Summers & learn how Herb Pharm produces the highest quality handcrafted herbal products using organically grown & responsibly wild-crafted herbs, organic alcohol, gluten-free & non-GMO ingredients. Discover the Herb Pharm products to support seasonal wellness, immune health, and vitality.
Some topics to be covered:
What Sets Herb Pharm Apart
Seasonal Wellness for everyone
Herbs for Stress Support
For over 20 years Autumn has been teaching and sharing her passion for how to use herbs or enhancing well being. She is on the core faculty of California School of Herbal Studies and a guest lecturer at other herbal institutes and herb conferences.
When
Tuesday, February 18, 2020 - 6:30pm
Where
Down to Earth Kahului
305 Dairy Road
Kahului, HI