Saturday, February 13, 2021 - 2:00pm
Kakaako: Valentine's Pop-Up Market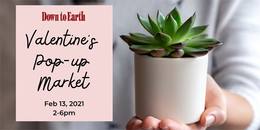 Love for local is in the air
We are hosting another socially distanced Pop-up Market at our Kakaako store!
Saturday, February 13th
2-6pm
At the Down to Earth Kakaako Dining Room
We are featuring two vendors who are sure to help you pick out a great last-minute Valentine's Day gift for your sweetheart (or a gift for yourself!)
Ada Swim is a local swimsuit maker who uses 100% sustainable and recycled materials for their super cute swimwear. They will also be bringing local-inspired face masks, reuseable shopping bags and more!
Once Again Succulents is joining us again to spread the love of succulents and other adorable houseplants. When in doubt, a locally raised succulent is a great way to show your love!
When
Saturday, February 13, 2021 - 2:00pm
Where
Down to Earth Kakaako Dining Room
500 Keawe Street
Honolulu