Wednesday, October 9, 2019 - 6:00pm
Kailua: Functional Mushrooms Lecture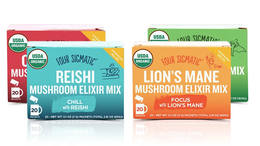 This talk will also be held on Tuesday, 10/8 at Down to Earth Honolulu.
Free, no registration required. Held in the Down to Earth Kailua Dining Area.
Join Danielle Ryan Broida, RH (AHG) of Four Sigmatic as she walks you through the fascinating Fungi Kingdom, demystifying the wonderous world of mushrooms. Dive deeper into some of the worlds most studied superfoods, adaptogens, and mushrooms and discover how mushrooms may just be the key to longevity you've been looking for."
You will also get to taste free samples provided by Four Sigmatic. Four Sigmatic is a superfood company founded by a group of Finnish friends. They aim to popularize medicinal mushrooms by incorporating them in more mainstream products like coffee and hot cocoa. Four Sigmatic was founded in 2012 and its products launched in the USA in 2015.
When
Wednesday, October 9, 2019 - 6:00pm
Where
Kailua Down to Earth
573 Kailua Road
Suite 101
Kailua, HI 96734