Tuesday, October 8, 2019 - 6:00pm
Honolulu: Functional Mushrooms Talk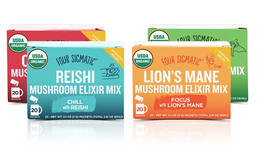 This talk will also be held on Wednesday 10/9 at Down to Earth Kailua.
Learn about Fungi as a kingdom, why medicinal mushrooms are good for us and benefits of most researched medicinal mushrooms like Reishi, Chaga, Cordyceps, Turkey Tail and Lion's Mane. You will also get to taste free samples provided by Four Sigmatic.
Four Sigmatic is a superfood company founded by a group of Finnish friends. They aim to popularize medicinal mushrooms by incorporating them in more mainstream products like coffee and hot cocoa. Four Sigmatic was founded in 2012 and its products launched in the USA in 2015.
Free, no registration required. Held in our Honolulu Community Room, Suite 302 on the 3rd floor above our S King St. store.
When
Tuesday, October 8, 2019 - 6:00pm
Where
Down to Earth Community Room
2525 S. King Street
Suite 302
Honolulu, HI 96826