Wednesday, May 6, 2020 - 12:00pm
Facebook Live Cooking Demo: Donut French Toast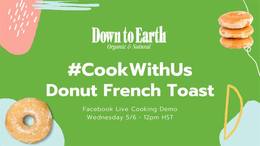 Looking for a healthy, hearty recipe?
Join us on Facebook Live on Wednesday 5/6 at 12pm HST for a live cooking demo of our Leftover Donut French Toast. To watch, visit facebook.com/downtoearthhi on Wednesday. You'll be able to ask questions live!
We'll also have an Instagram Live Cooking demo on Friday 5/8 at 12pm HST for Carob Chip Chickpea Cookies. 
We'll also record the demo to upload later to our social media channels. Make sure to follow us so you can stay up-to-date.
When
Wednesday, May 6, 2020 - 12:00pm
Where