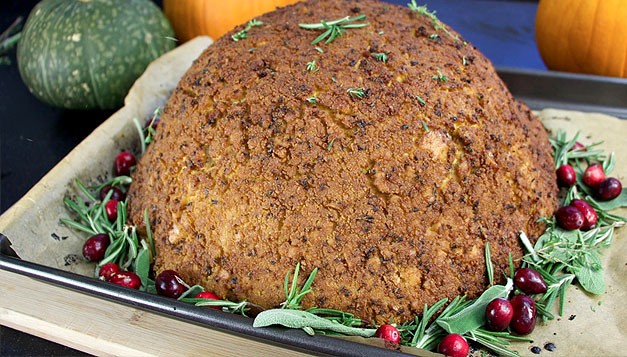 The holiday season is still going strong and we hope you are still smiling and relishing all the delight that this time of year brings. If you haven't had a chance to try our awesome Tofu Turkey recipe, you owe it to yourself to watch the video and give it a try. This recipe is such a crowd pleaser for all ages and appetites and can be adjusted for gluten-free diets as well. It's simple, fun and fantastic with gravy!
See the video and recipe here or, if you'd rather see it live, then don't miss our Honolulu cooking class on December 5th from 11am-Noon, where Tofu Turkey will be prepared along with mushroom gravy, cranberry sauce, and vegan chorizo-stuffed dates (Yum!).
The recipe calls for the tofu to be stuffed with a prepared stuffing of your choice. We have packaged options in the store or you can make it from scratch using one of our recipes:
To make your Tofu Turkey gluten-free, choose a gluten-free stuffing and remember to use wheat-free tamari or Braggs.
If you're looking for another main dish or a dazzling dessert, check out the cooking class at our Kailua store on December 1st from 4:30-5:30pm. It's entitled "Plenty O' Pies" and will feature recipes and demonstrations for Vegetable Pot Pie, Raw Pecan Pie, and Tangerine Cream Pie (is your mouth watering yet?)!
Wherever your holiday cooking adventures take you, bear in mind that locally grown and seasonal ingredients are often the most flavorful, nutritious and cost-effective choices. Above all, have fun and find time to relax after enjoying your delicious meal. Even in the face of a holiday meal mishap (Uhh Mom…why is there smoke coming out of the oven??) a light-hearted attitude will help everyone to see the humor and embrace it as another fun family memory!