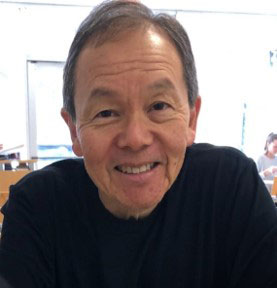 Chef Paul Onishi has been involved in the food and beverage industry for 50 years. Paul received his teaching certificate from Chaminade University and has taught in DOE schools for 10 years. He helped start a culinary training program for at-risk youth on Oahu and Hawaii Island. He recently received his certification as a vegan chef / instructor.
It's funny how the trials and tragedies of life end up yielding some of the most magnificent blessings. This February, I will celebrate my 3rd anniversary as a plant-based consumer, chef and culinary instructor.
My journey abruptly began when a simple tooth extraction turned into a major wake-up call. I was cautioned by the nurse that my surgery could be postponed due to my blood pressure reading of 180/117. I dismissed those numbers as incorrect, but later I began to worry because the numbers remained the same. I followed up with my internist who promptly put me on a vegetarian diet. He told me that I may have already suffered heart damage and set myself up for a potential stroke.
I am very thankful to the "Life-Support" team at 'Ekahi Health who took me in when my body finally decided to rebel after a lifetime of food abuse. Because I was backed up against the wall, I had no other option but to change my ways. I learned about food proportions, exercise, meditation and group support. When I graduated, I went back to the 'Ekahi facility to exercise on a regular basis because I didn't want to lose the momentum I had established--not to mention the major turn-around in my overall health profile. An initial cholesterol reading of 260 is now 158, supported by my HDL, LDL, triglycerides and A1C numbers all showing better than normal gains.
I was so motivated by my own drastic lifestyle change, especially in the area of food preparation, that I began to investigate how I could "veganize" a lot of the local and ethnic foods I had grown up with. Five years ago, I don't believe I could have made the transition from carnivore to a plant-based diet so easily, but with all the meat substitutes available nowadays, creating local and ethnic favorites is much easier.
It was during that time period, that I connected with Down To Earth to establish a series of hands-on vegan cooking classes for fellow graduates of the 'Ekahi Ornish program who were struggling to maintain their healthy lifestyle. The hands-on approach was focused on integrating basic cooking skills with healthy ingredients available at the Down To Earth stores. Before I knew it we had classes set up at the Honolulu store on King Street and were attracting not only 'Ekahi Ornish graduates but others who wanted to take control of their own meal preparation so they could transition to and maintain a heart healthy lifestyle.
Last year, 'Ekahi Health began offering my classes to newly enrolled students and "fence-sitters"; those who needed to enroll in the Ornish program but were not convinced about embracing a completely vegan diet. I remember getting a lot of last-minute enrollees--those who needed a little convincing that eating plant-based food and preparing it on a regular basis was not going to kill them. I also started attracting a few restaurant professionals who had suffered similar occupational setbacks like I did. It was fun to see how I slowly made believers out of every one of them.
The real test came when I was invited by Down To Earth to represent them at VegFest Oahu. My challenge was to produce 400 samples of my Vegan Loco Moco. With the help of the Down To Earth staff and kitchens, we were able to meet the challenge. In the end, most of the people who sampled it were convinced that the vegan egg tasted like the real thing and that my gravy prompted responses like "Where's the turkey?"
My vegan hands-on cooking classes will continue and I expect to meet many more people who are in desperate need, as I was not too long ago, to change their ways. Some may stick with it, and some will fall away. I've had my days of "falling off the wagon" but it only takes a few readings of my blood pressure to convince me to get back in the saddle again.
Chef Paul's hands-on cooking classes continue at Down to Earth. For more information on dates and upcoming classes call Chef Paul at (808) 722-9782 or email him at onishi-on-food@hotmail.com