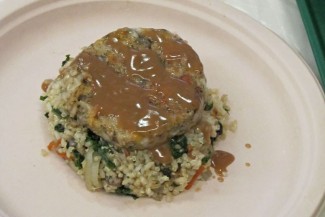 A lighter and healthier alternative to a local classic.
Ingredients
Brown Rice/Quinoa Mixture
1 cup brown rice, rinsed and drained
1 cup quinoa, rinsed and drained
2 cups water
Pinch of salt
Ginger Sesame Dressing
½ cup sesame oil
¼ cup balsamic vinegar
2 Tablespoons tamari or liquid aminos
2 garlic cloves, minced
1 Tablespoon brown sugar, honey or agave nectar
2 Tablespoons ginger, minced
2 Tablespoons water + more if needed
Loco Moco
Olive oil
1-3 Tablespoons minced garlic
1 cup kale, de-stemmed and shredded
1 cup grated carrots
1 cup sliced onions
1 cup sliced mushrooms
1 teaspoon mirin (optional)
4 veggie burger patties of choice
1 cup chopped green onions
Kim chee (optional)
Instructions
Prepare Brown Rice/Quinoa Mixture first: Combine brown rice and quinoa in a medium saucepan. Add water and salt. Heat over medium-high until water comes to a rolling boil. Lower heat to low, cover, and simmer for about 35-45 minutes. Fluff with a fork.
Combine all Ginger Sesame Dressing ingredients in a blender. Starting from the lowest setting, slowly increase speed as ingredients break down. Add more water if needed to achieve a smooth consistency. Set aside.
To prepare Loco Moco: Heat 2 Tablespoons olive oil in large sauté pan. Add garlic and cook for 1-2 minutes. Add kale, carrots, onions and mushrooms, and sauté for a few minutes. Add mirin if desired. Cook until onions are tender and kale is bright green. Set aside.
Cook veggie patties according to package directions. Set aside.
Stir most of the sautéed vegetables into Rice mixture, setting aside a small amount for garnish. Scoop into the center of serving plates, creating small mounds (rice can be packed into a small bowl, then flipped over to create a nice rounded mound). Place veggie patty on top, and drizzle with Sauce.
Garnish each plate with remaining sautéed vegetables and green onions. Serve with a spoonful of kim chee on the side and enjoy this healthy Loco Moco!