Our Deli Menu
Check out our menu of made-to-order sandwiches, fresh juices, and smoothies.
In the Deli & Bakery Department:
Hawaii's Leading Vegetarian Deli!
Our deli food is all made fresh locally from scratch! No artificial ingredients or preservatives are used. Just natural, homemade goodness!
The deli at Down to Earth is Hawaii's leading vegetarian deli. You'll find delicious entrées on our hot table and cold salad bar and a wide variety of baked goods, including vegan and gluten-free options. You'll also find a great made-to-order sandwich menu, fresh juices and smoothies, and grab-and-go items made fresh daily. It's a vegetarian culinary delight!
In fact, our vast spread of prepared vegetarian foods meets such high standards of culinary tastes that it is a destination point for people of all walks of life seeking food that's not only tasty but good for you, too! And did we mention you don't have to be vegetarian to enjoy eating here!
Bakery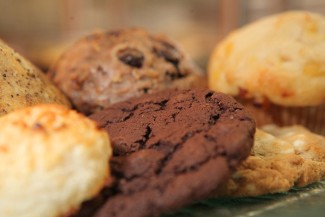 Vegetarian/Vegan Baked Goods
We offer a wide variety of mouth-watering baked goods made fresh daily. From muffins to scones, and brownies to chocolate chip cookies, cakes, and pies, it won't be easy to resist such exquisite treats!
Whether you want to complete your meal with a special dessert, or just want to treat yourself to something delicious, we invite you to try our delectable baked goods made fresh daily just for you! (The Mango Cheesecake, is incredible!)
You'll love the wide variety of gluten-free and vegan desserts you'll have to choose from! Try our new vegan, oven-baked doughnuts. They're the best. The only hard part will be in deciding which ones to choose!