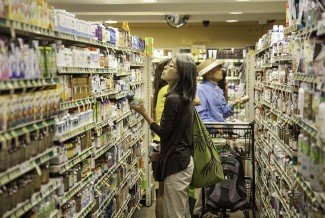 In the Wellness Department:
The Wellness Department at Down to Earth is known for having the most complete range of all-vegetarian and natural, vitamins, supplements, herbs, and homeopathic remedies available in Hawaii. But this department offers so much more!
Products in our Wellness Department are carefully selected to enable our customers to support a healthy lifestyle, while at the same time enabling you to express your concern for the Earth and its creatures. To accomplish this, we choose our products based on the strict criteria of being vegetarian, natural and cruelty-free. Following these guidelines ensures our customers of quality products that can be enjoyed by the whole family.
Our Wellness Department is comprised of food supplements, cosmetics, and household products that support a natural, vegetarian, and healthy lifestyle. Being an all-vegetarian store, we carry products that you won't find at other stores. We seek out a variety of the highest quality products, resulting in our unique and carefully considered product mix.
For example, our supplements are free of artificial flavors, colors, preservatives, and sweeteners; and are all-vegetarian. Even the capsules for our supplements are vegetarian, as we will not carry supplements in capsules made from gelatin—which comes from cow hooves.
Our skin care products have no animal-based ingredients such as collagen, elastin, retinol, or hyaluronic acids, which are used to make skin plump, give it elasticity, or make it appear smoother. Instead, we carry plant and mineral based products which are proven to be just as effective, if not better.
Even our cosmetics meet stringent vegetarian standards. For example, we carry no make-up that contains a red coloring called 'carmine' which is made from beetles. Instead, the red color in our cosmetics comes from beets or minerals.
We also offer fragrance-free products for those with sensitivity to even natural scents.
Our Wellness Department, however, is known for more than just high-quality all-vegetarian products. Customers throughout the islands agree: our knowledgeable and friendly staff is hard to beat. Our caring and friendly team members are always glad to provide guidance and information on product quality and use, as they are well trained and enjoy helping customers make informed decisions about their health.
Just ask. You'll see!
For a summary of products available in each of the sections of our Wellness Department click on the links below.
In the Wellness Department: