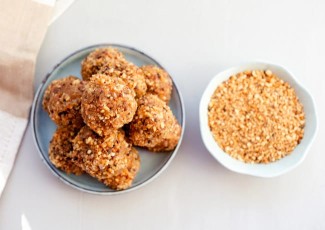 These traditional almond cookies are sweet with a nutty aroma.
Ingredients
½ cup aquafaba
Juice of ½ lemon
1 teaspoon vanilla
½ teaspoon almond extract
4 cups almond flour
2 cups powdered sugar
½ cup sliced almonds
Instructions
Preheat oven to 325̊.
Beat aquafaba in a blender or with electric hand mixer until peaks form.
Beat in lemon juice, vanilla, and almond extract.
Sift almond flour and powdered sugar into a separate bowl.
Fold in aquafaba mixture until well combined.
Measure 1 Tablespoon of dough, roll in sliced almonds, and place on baking sheet. Repeat until all dough has been used.
Bake cookies for 20-25 minutes, until golden brown.