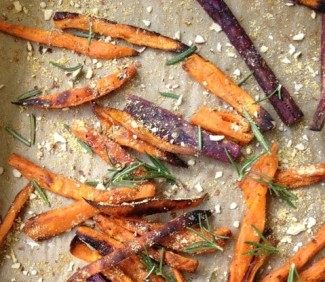 What's not to like about fries? They're satisfying, delicious and endlessly versatile. Amazing by themselves or served as a side – you might need to make a double batch because these will disappear quickly!

Ingredients
Sweet Potato Fries
2 large sweet potatoes, Okinawan sweet potatoes, or yams
2 Tablespoons liquid coconut oil or extra virgin olive oil
1-2 Tablespoon Spike seasoning or mixed seasonings of choice
Salt and pepper to taste
Almond Parmesan
⅓ cup finely ground almonds
2-3 Tablespoons nutritional yeast
1-2 teaspoons salt
1 teaspoons garlic powder
Garnish
½ cup finely chopped fresh herbs of choice (optional)
Salt and pepper, to taste
Instructions
Peel potatoes and slice into ¼" inch thick fries (large matchsticks).
Preheat oven to 425°.
In a large bowl, toss fries with coconut oil and seasonings until well coated.
Transfer fries to baking sheet in a single even layer. Bake fries for 30-60 minutes, flipping them every 15 minutes or until brown and crisp to your liking. The time will also depend on which potatoes you use.
Once fries are done, remove from oven. Garnish with Almond Parmesan, chopped herbs and seasonings. Serve with favorite dipping sauce and enjoy!