Broccoli & Kale Salad with Creamy Garlic Dressing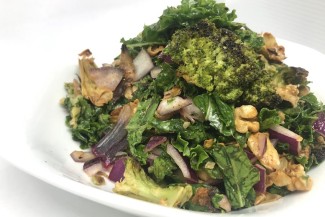 This broccoli & kale salad is delicious, packed full of healthy ingredients, and so simple to make!
Ingredients
Salad
3 cups frozen broccoli
2 Tablespoons avocado oil
pinch of salt
1 can artichokes, rinsed and drained
1 teaspoon smoked paprika
1 teaspoon ground coriander
2 cups kale, chopped or torn
fresh juice of a lemon
pinch of salt
1 red onion, diced
1/2 cup walnuts, chopped
Dressing
2 cloves garlic, minced
3/4 cup raw cashews, soaked in hot water for 20 minutes
1/4 cup vegetable broth or water
Fresh juice of a lemon
1 Tablespoon pure maple syrup
1 teaspoon onion powder
1 teaspoon salt
1/2 teaspoon dried dill
1/2 teaspoon dried parsley
dash of cayenne pepper
Instructions
Preheat oven to 425F.
Add frozen broccoli to a large bowl and drizzle with oil and salt. Toss to coat. Spread on a lined baking sheet and set aside.
Add drained and rinsed artichokes to another bowl and toss with oil, smoked paprika and ground coriander until coated. Place on another lined baking sheet and place into oven with broccoli. Bake for about 35 minutes, until golden and crispy.
Place kale in a large salad bowl and sprinkle with lemon juice and a pinch of salt. With clean hands, massage the kale by rubbing with your fingers until leaves begin to darken and tenderize. Add red onion and walnuts to bowl and set aside.
Add all dressing ingredients to a high speed blender and blend until smooth and creamy. To reduce tartness, simply add a little more maple syrup, to taste.
Add broccoli and artichokes to kale and onion and toss to combine. Pour dressing over salad and toss to coat.