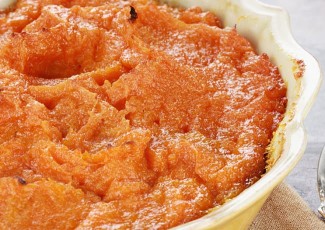 Nothing tastes better than mashed sweet potatoes, except maybe mashed sweet potatoes with a brûlée crust!
Ingredients
3-4 sweet potatoes, washed and peeled
2 Tablespoons vegan butter
1-2 Tablespoons non-dairy milk
¼ teaspoon nutmeg
½ cup cane sugar
Instructions
Cut washed and peeled potatoes into about 1" cubes.
Bring a pot of water to a rolling boil and add potatoes. Cook until potatoes are soft, about 10-15 minutes. The potatoes will be done when they can be crushed by a spoon.
Drain water and return potatoes to pot.
Add vegan butter, non-dairy milk (start with one Tablespoon, add second later if needed), and nutmeg.
Use a potato masher, fork, or whisk to mash potatoes until they are light and fluffy.
Transfer potatoes to an 8x8 pan and spread evenly. Coat the top evenly with cane sugar.
Turn oven to broil and allow potatoes to cook until crust is bubbly and caramelized. Serve warm and enjoy!