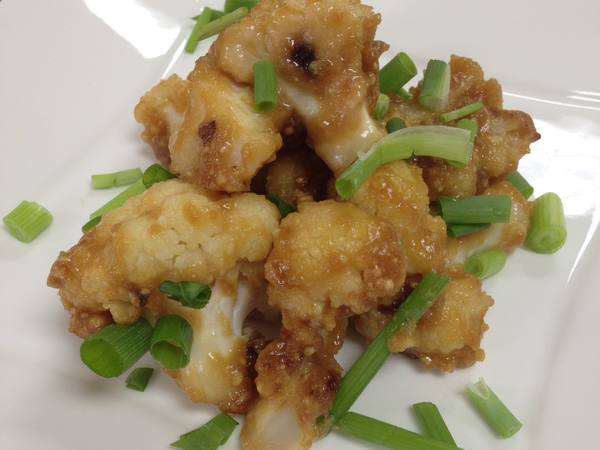 Cauliflower Bites with Peanut Sauce
Get all the things you love about deep fried foods - crispy outside and tender inside - achieved using a healthier alternative, baking! These bites are a cinch to make and are extremely versatile. Substitute the peanut sauce with hoisin, buffalo, pesto, or any other favorite coating.
Updated: Mon, 05/13/2019 - 9:00pm
Ingredients
1 cauliflower, chopped
1 Tablespoon safflower oil
1 teaspoon sea salt

Peanut Sauce:

    ¼ cup smooth peanut butter
    2 Tablespoons mirin
    2 Tablespoons soy sauce
    1 teaspoon red pepper chili flakes
    ½ teaspoon garlic powder
    ½ teaspoon onion powder
 
¼ cup chopped green onions
Instructions
Preheat oven to 425°.
In a small bowl, combine Peanut Sauce ingredients.
In a large bowl, toss cauliflower with safflower oil and sea salt.
Place cauliflower on a lined baking sheet. Bake for 20 minutes, turning occasionally until browned and tender.
Return baked cauliflower to the large bowl and toss with Peanut Sauce to coat evenly.
Place coated cauliflower back onto the lined baking sheet and bake for an additional 5 minutes.
Let cool and garnish with green onions. Enjoy!