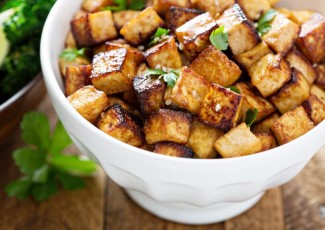 Watch us prepare this recipe on KHON's Living 808! Making tofu from chickpeas is a fun way to add some versatility to your diet.
Ingredients
1 cup chickpea (garbanzo bean) flour
2 cups water
1 teaspoon garlic powder
½ teaspoon salt
Juice of ½ lemon
Instructions
In a saucepan, combine chickpea flour, water, garlic powder, salt, and lemon juice.
Bring to a simmer over medium heat, whisking constantly.
Once mixture starts to thicken, transfer to a bowl or dish to mold.
Refrigerate overnight to set. 
Once tofu has set, preheat oven to 400 degrees.
Cut tofu into cubes and spread out across a baking sheet. 
Bake for 20 minutes, flipping halfway through. 
Serve warm and enjoy!