Green Wraps with Herb and Nut Cheeze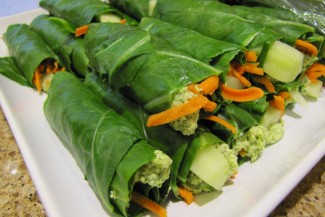 In this recipe healthy collard greens are used to wrap a creamy nut and herb spread and fresh vegetables. Blanching the collards beforehand softens the tough greens for wrapping, but you can use them raw if you like.
Ingredients
½ cup raw cashew pieces, soaked 1 hour
¾ cup whole raw macadamia nuts
2 Tablespoons fresh-squeezed lemon juice + more to taste
1 cup fresh herbs (dill, basil, cilantro, etc.)
1 clove garlic
Pinch salt and pepper
2 Tablespoons water + more if needed
1 bunch collard greens
1 cup shredded carrots
1 cucumber, sliced into sticks
Instructions
To make the Nut Cheeze: Measure the cashew pieces into a large bowl. Cover with water and let soak 1 hour. Drain off water before using.
Blend cashews and macadamia nuts in a food processor until mostly smooth. Add lemon, herbs, garlic, salt and pepper. Blend until well combined. Add water as needed to make a creamy but thick texture.
To make the wraps: Wash greens, and slice leaves at the stems, leaving two big pieces from each leaf.
Using tongs, dip each leaf in boiling water for just a second to blanch - it should turn bright green and visibly soften. Set on towels to cool and dry.
When leaves are cool, place flat and add 2 Tablespoons Nut Cheeze, then cover with carrots and one slice of cucumber. Roll and enjoy!