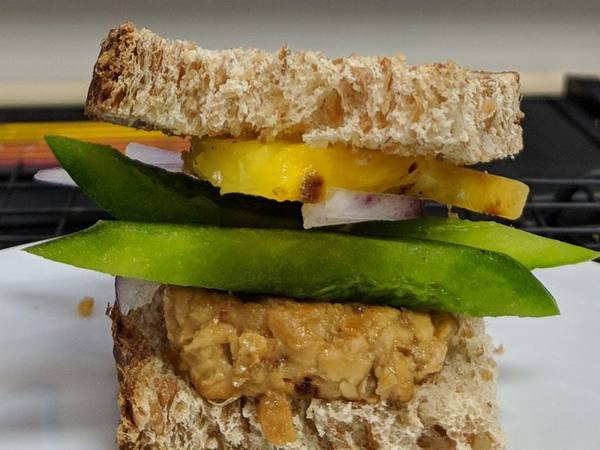 Grilled Pineapple Tempeh Sliders
These bite size "burgers" are tangy and flavorful. They'll be a hit at any party!
Updated: Mon, 05/13/2019 - 9:21pm
Ingredients:
Marinade:
¼ cup orange juice
1 Tablespoon tamari or soy sauce
1 teaspoon peanut or sesame oil
2 teaspoons mirin
1 teaspoon white miso
2 teaspoons hot sauce
Juice of ½ lime
1 pineapple
1 Tablespoon high-heat oil (avocado, grapeseed, safflower, etc.)
1 package bread
Instructions:
Remove tempeh from package and place in a saucepan. Fill with enough water to just cover the tempeh. Bring to a boil for 12 minutes, then remove from heat and drain tempeh.
For the marinade: In a small bowl, whisk together orange juice, tamari, peanut oil, mirin, miso, hot sauce, and lime juice.
Cut tempeh in half so you have 2 squares of tempeh. Slice each of the squares in half, so you have 4 thin squares. Then, cut each square into 4 pieces. You will have 16 tempeh patties.
Place the 16 pieces of tempeh in a 13x9 pan. Pour the marinade over the tempeh. Refrigerate for at least 1 hour, up to overnight.
Slice pineapple into fourths, removing the rind and skin. Then slice pineapple into 1-centimeter thick pieces.
Heat oil over medium heat in a large sauce pan.
Add tempeh pieces and cook until crispy on both sides. Pour reserve marinade over tempeh slices and cook until absorbed.
Remove tempeh from heat and cook pineapple slices until browned on both sides.
Cut each slice of bread into 4 pieces, until you have 16 pieces. Broil in the oven until toasted.
Stack 8 bread slices with 1-2 pieces of tempeh and 2-3 pieces of pineapple. Top with extra hot sauce, if desired, and another slice of bread. Serve hot and enjoy!