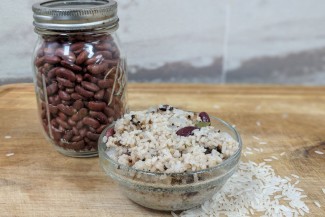 In Jamaica, kidney beans are called "peas"! This delicious staple dish is packed with flavor.
Ingredients
1 large white onion
2 cups rice
3-4 cloves garlic
1 (15 ounce) can coconut milk
2 cups vegetable broth
½ teaspoon salt
1 teaspoon all spice
2 teaspoons thyme
1 hot pepper, minced
1 (15 ounce) can kidney beans
Instructions
In a pot, sauté white onion until translucent.
Add rice and garlic and sauté until rice is browned.
Pour in coconut milk and vegetable broth. Add salt, all spice, thyme, and minced pepper.
Bring to a boil, then reduce heat to simmer. Simmer until liquid has been absorbed, about 1 hour.
Once rice is cooked, add kidney beans. Serve hot and enjoy!