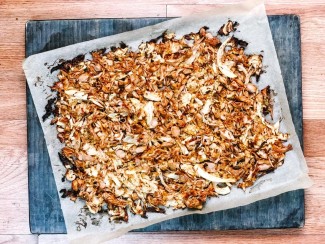 You only need 5 simple steps to make this vegan Kalua Jackfruit recipe! This easy, delicious dish is perfect for a weeknight dinner at home.
Ingredients
2 x 14 oz cans organic young jackfruit, rinsed, drained and shredded
1 Tablespoon sesame oil
1/4 cup liquid aminos
1/4 cup vegetable broth
1 teaspoon smoked paprika
salt to taste
1/2 head cabbage, shredded
1 Tablespoon arrowroot starch mixed with a splash of liquid
Instructions
Preheat oven to 400F.
Combine the oil, aminos, broth, smoked paprika and salt.
Toss jackfruit pieces and shredded cabbage in sauce until evenly coated.
Bake the jackfruit for 30 minutes, tossing with tongs halfway.
Serve as is, or to make gravy, place roasted jackfruit and cabbage in saucepan and add a splash of vegetable broth. Add arrowroot starch and stir until liquid thickens and a gravy forms. Enjoy served over rice!