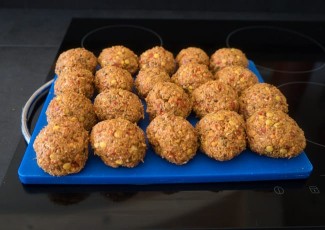 Nourishing vegan "meatballs" that taste great with marinara sauce, pesto, with pasta, or on their own.
Ingredients
1 Tablespoon coconut oil
1 small onion, finely chopped
2 garlic cloves, minced
1 shallot, minced
1 cup brown lentils
3 cups vegetable broth
1 teaspoon dried parsley
½ teaspoon dried thyme
1 Tablespoon tomato paste
1 Tablespoon nutritional yeast
1 teaspoon coconut aminos
1 flax egg (1 Tablespoon of ground flaxseed + 3 Tablespoons of water)
⅓ cup seasoned coating mix
Instructions
Preheat oven to 375° and line a baking sheet with parchment paper.
Heat the coconut oil over medium-high heat in a medium-large pot.
Add the onion, garlic and shallot and saute for a few minutes until soft and fragrant.
Add the lentils and vegetable broth and bring to a boil.
Once boiling, cover pan and reduce heat to a simmer for about 20-25 minutes, until water has absorbed and lentils are cooked.
In a food processor, pulse the lentils with the dried herbs, tomato paste, nutritional yeast, coconut aminos, and flax egg until combined.
Stir the bread crumbs into the lentil mixture by hand until the mixture holds together.
Allow the mixture to cool down before carefully forming into golf-ball-sized meatballs and set on the baking sheet.
Bake meatballs in the oven for approximately half an hour, rotating throughout to ensure all sides are browned.
Remove meatballs from oven and cool for a few minutes before serving (meatballs become more firm as they cool).