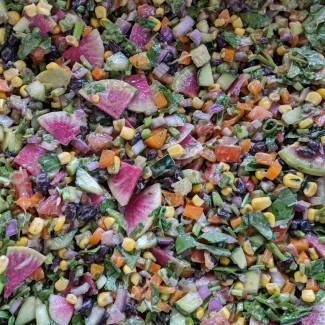 This colorful salad is perfect for any occasion, and it tastes even better the next day because the salad soaks up all the flavors from the dressing!
Ingredients
SALAD:
15 oz can black beans, drained and rinsed
15 oz can corn
1 red onion, finely diced
1 cucumber, chopped
4 radishes, quartered and sliced
1 tomato, chopped
1 red bell pepper, chopped
3 green onions, finely sliced
Small bunch watercress
Small bunch fresh cilantro, finely chopped (optional)
DRESSING:
½ ripe avocado, mashed
1 lime, juiced
2 tsp coconut nectar
⅓ cup avocado oil
Pinch of sea salt
1 tsp dried cilantro (optional)
Instructions
In a large bowl, combine salad ingredients.
In a small bowl, whisk together dressing ingredients until blended. You could also put all the ingredients in a lidded jar and shake!
Pour dressing over salad and toss to mix well.
Cover and chill for at least 3 hours for dressing flavors to soak into salad.