Pizza Dough Bread w/ Garlic Herb Topping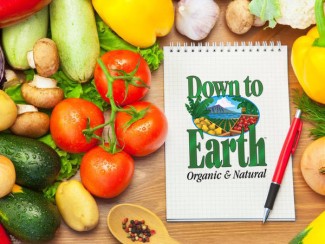 Pizza Dough Bread recipe from Down to Earth Organic and Natural.
Ingredients
Pizza Dough Bread
1 packet dry active yeast
1 teaspoon sugar
1 cup warm water
3 cups flour + 3 Tablespoons
6 Tablespoons olive oil
1 teaspoon salt
Herb Oil
3 garlic cloves, crushed
¼ cup olive oil
¼ cup chopped fresh basil
1 teaspoon dried oregano
1 teaspoon dried rosemary
2 Tablespoons nutritional yeast
Instructions
Preheat oven to 400º. Lightly grease a baking sheet . Set aside.
Place yeast, sugar and water in a large bowl. Let sit for 10 minutes.
Mix in 3 cups flour, 3 Tablespoons olive oil, and salt. Sprinkle extra flour if too sticky.
Form into a round ball and drizzle with remaining olive oil. Let stand for 5 minutes.
Knead dough until smooth. Using your hands, shape dough into an oval; about 12 inches long. Place on prepared baking sheet and continue to spread out. For a thicker crust do not spread out too much.
Combine all Herb Oil ingredients in a small bowl and spread over dough.
Bake for 15-20 minutes or until top is golden. Serve warm, Enjoy!