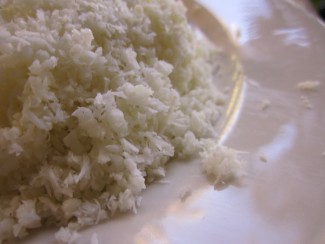 Raw "rice" is often made from finely shredded cauliflower or parsnip. Here's a recipe for a simple coconut rice, to be accompanied by a favorite raw sauce or curry.
Ingredients
½ cauliflower
¾ cup shredded coconut
Instructions
In a food processor, process the cauliflower until it is in fine, rice-like chips.
Place in a bowl and mix in the coconut.
Serve with a raw curry. Enjoy!