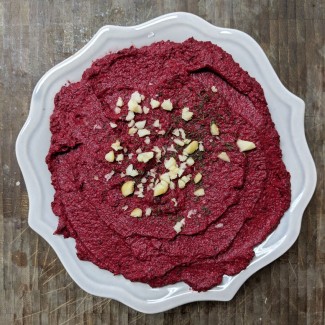 When beets are roasted, they have a sweet subtle flavor and vibrant color!
Ingredients
2 medium beets
¼ cup olive oil + 1-2 Tablespoons for drizzling
3-4 cloves garlic
2 tablespoons tahini
Juice of 1 lemon
1 teaspoon cumin
½ teaspoon dill
½ teaspoon salt
Instructions
Preheat oven to 425̊.
Wash, peel, and dice beets. Spread across a lined baking sheet and drizzle lightly with 1-2 Tablespoons olive oil.
Roast beets for 30-35 minutes, until very soft and slightly charred.
Transfer beets to a food processor, along with remaining ingredients. Blend until hummus has a smooth consistency. Serve with veggies or as a spread, enjoy!