Roasted Garlic Couscous with Pine Nuts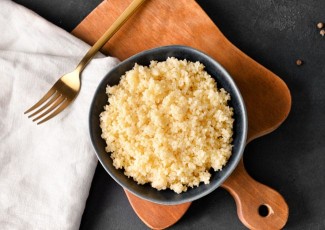 Roasted Garlic Couscous with Pine Nut Recipe from Down to Earth Organic and Natural
Ingredients
Roasted Garlic:
Couscous
1 Tablespoon olive oil
6 roasted garlic cloves
⅓ cup pine nuts
3 cups water
Salt, to taste
2 cups couscous
Instructions
Prepare Roasted Garlic: Preheat oven to 400°.
Cut the top off garlic head. Drizzle with olive oil and cover tightly with foil.
Bake for 40-45 minutes. Let cool and use as needed. Can be refrigerated in an airtight container for up to 1 week.
Prepare Couscous: Heat olive oil in a saucepan over medium heat.
Add roasted garlic cloves and pine nuts. Cook until pine nuts are golden brown.
Add water and salt. Bring to a boil.
Stir in couscous; reduce heat and cook for 5 minutes or until all water is absorbed.
Remove from heat and fluff with a fork.
Serve on its own or with Roasted Red Pepper Chickpeas. Enjoy!