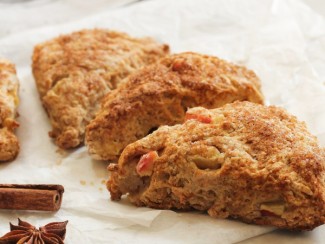 These spiced apple scones are perfect for fall. Serve them warm with a cup of herbal tea or coffee for a delicious breakfast!
Ingredients
1 Tablespoon flaxmeal
¼ cup apple juice
2 cups flour
1 Tablespoon baking powder
½ teaspoon salt
½ cup sugar + more for topping
1 teaspoon cinnamon
½ teaspoon cardamom
½ teaspoon ground ginger
¼ teaspoon all spice
¼ teaspoon nutmeg
6 Tablespoons coconut oil, solidified
¾ cup almond milk
1 ½ cups chopped apples
1 teaspoon vanilla
Instructions
Preheat oven to 375̊.
Combine flaxmeal and apple juice. Set aside to rest for at least 15 minutes.
In a bowl, whisk together flour, baking powder, salt, sugar, cinnamon, cardamom, ground ginger, all spice, and nutmeg.
Add coconut oil and cut into dry ingredients until well combined. The mixture should resemble sand.
Add flaxmeal mixture, almond milk, chopped apples, and vanilla. Mix until a dough forms. If the dough is too dry, add ¼ cup more almond milk. If dough is too wet, add ¼ cup flour.
Transfer the dough to a lightly floured surface, and shape into a circle roughly 1-2 inches thick. Sprinkle sugar on top of the dough.
Cut the dough circle into 6-8 triangle slices. Transfer to a baking sheet and bake for 20 minutes.
Serve warm with herbal tea or coffee, enjoy!