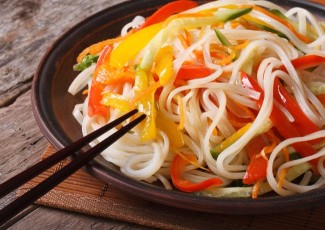 This mid-week go-to meal is a variation of the Spicy Noodle Salad found in our salad bars.
Ingredients
Gluten-free or wheat linguine noodle (227g box) cooked
1 red bell pepper, chopped
1 can corn kernels, drained
½ bunch green onions, sliced
Dressing
½ Tablespoon coconut aminos or Braggs' liquid aminos
1 Tablespoon sesame oil
1 Tablespoon coconut nectar or maple syrup
1-inch piece fresh ginger, peeled and minced
¼ - ½ teaspoon cayenne pepper (more if necessary)
Instructions
Cook the noodles according to package directions (usually just boiling for a few minutes). Drain well.
Puree dressing ingredients in a food processor or blender. You can also whisk if you don't mind the ginger being a little more chunky.
Toss noodles and vegetables together with enough dressing to generously coat everything. Serve cold!