Spicy Nori Cauliflower Wings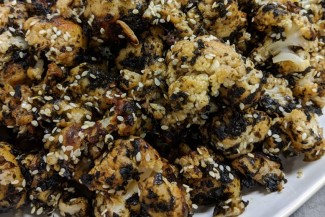 Nori may not be the first thing that comes to mind when you think "hot wings", but it'll be the only thing on your mind once you try these.
Ingredients
⅓ cup all-purpose flour
⅓ water
1 large head cauliflower
1 package nori sheets
⅓ cup tropical flavor hot sauce
1 Tablespoon soy sauce
2 teaspoons mirin
1 teaspoon sesame oil
¼ cup sesame seeds
Instructions
Preheat oven to 450̊.
In a medium bowl, whisk together flour and water until no lumps remain.
Cut stem off cauliflower, and break apart into florets.
Toss florets in flour and water mixture until well coated.
Spread cauliflower evenly across a lined baking sheet and bake for 20 minutes, stirring halfway through.
Place nori sheets into a food processor and pulse until broken down. Transfer nori sheets to a medium bowl.
In a separate medium bowl, combine hot sauce, soy sauce, mirin, and sesame oil.
Add baked cauliflower to sauce and toss until well coated.
Once coated in sauce, add cauliflower to nori and toss until well coated. Add sesame seeds and toss again to coat.
Return cauliflower to baking sheet and bake an additional 10 minutes.
Serve hot and enjoy!