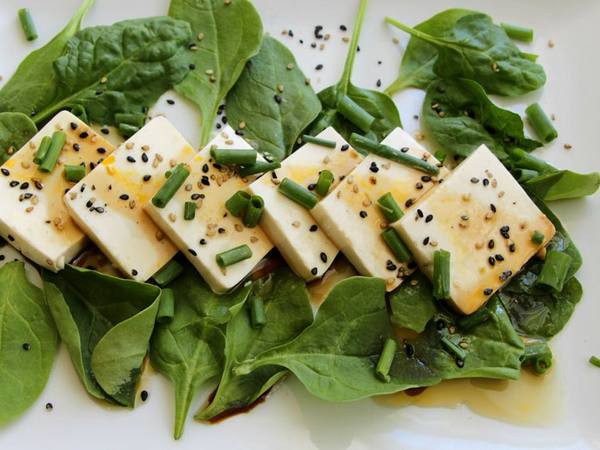 Tofu Sashimi w/ Spicy Chili Sauce
Simple ingredients and simple preparation make for a simply delicious and light dish with a spicy kick. This recipe is adapted from the cookbook "Kansa: Celebrating Japan's Vegan and Vegetarian Traditions."
Updated: Mon, 05/13/2019 - 8:51pm
Ingredients:
Tofu
1 (12-ounce) tub silken tofu, firm or extra-firm, drained & chilled for 2-3 hours
Spicy Chili Sauce
¼ cup sesame oil or safflower oil
1-2 cloves garlic, crushed
1-3 teaspoons chili oil of choice
1-2 teaspoons honey or agave
1-2 Tablespoons toasted sesame oil
1-2 Tablespoons soy sauce or tamari
Suggested Garnishes
Crushed rice crackers
¼ cup sliced green onions
Sesame seeds or gomasio
Sautéed onions/shallots
Nori strips
Furikake
Pickled ginger
Sliced cucumbers
Instructions:
To prepare Tofu: Once tofu is chilled, slice into thin slices at least a ¼" thin. Layer them in a single row or a circle on a plate. Refrigerate until ready to serve.
To make Spicy Chili Sauce: Heat sesame oil in a skillet over medium heat. Add in garlic and let cook for a few minutes or until fragrant. Discard garlic. Remove oil from heat and let cool. Carefully pour garlic-infused oil in a mixing bowl. Whisk in remaining Spicy Chili Sauce ingredients and mix until well combined. This sauce can be prepared a few days in advance but is especially delicious when served warm.
Remove Tofu from the refrigerator and pour the Spicy Chili Sauce all over. Add any of the Suggested Toppings to the dish as well. Serve and enjoy!