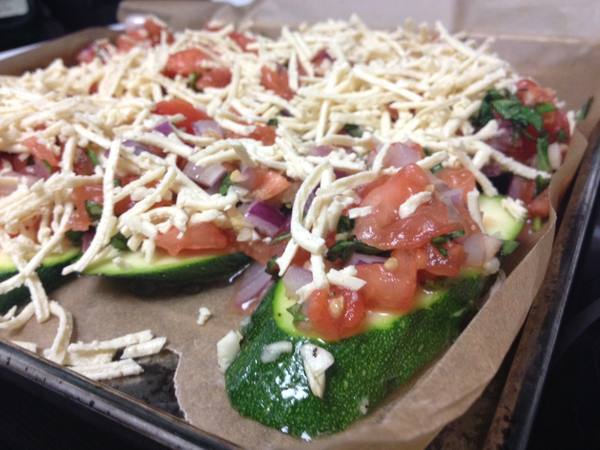 Tomato and Basil Zucchini Bruschetta
This delicious bruschetta uses zucchini slices for a healthy alternative to bread. It can be eaten as a side dish or as a meal on its own!
Updated: Mon, 05/13/2019 - 8:59pm
Ingredients
2 whole zucchinis
2 cloves garlic, minced and divided
6 Tablespoons olive oil, divided
Salt and pepper, to taste
Tomato Sauce

4 whole tomatoes, diced
2 shallots, chopped
1 Tablespoon ginger, grated
1 pinch sugar
¼ cup fresh basil leaves, chopped

1 cup shredded vegan mozzarella, optional
Instructions
Preheat oven to 350°.
Diagonally slice the zucchini into ¼" thick slices.
In a large bowl, combine half of the minced garlic with 4 Tablespoons of olive oil, salt, and pepper to taste.
Gently toss sliced zucchini in olive oil mixture until well coated.
Line a baking sheet with parchment paper. Place zucchini slices onto lined baking sheet.
Mix tomato sauce ingredients in a large mixing bowl. Season with salt and pepper to taste.
With a slotted spoon, scoop tomato mixture on top of zucchini slices. Sprinkle vegan mozzarella shreds on top, if desired.
Bake in oven for 20-25 minutes or until vegan mozzarella is melted and zucchini slices have slightly softened.
Remove from oven and let cool. Enjoy!