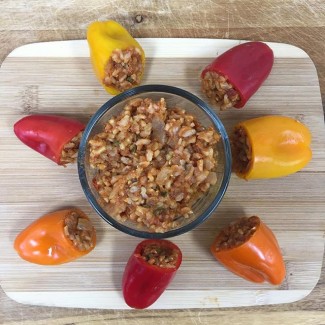 This traditional Spanish rice is easy to make and packed with flavor. Instantly makes your meal more appetizing!
Ingredients
2 cups brown rice
32 ounces vegetable broth
1 28 ounce can crushed tomatoes
1 teaspoon smoked paprika
1 teaspoon cumin
1 teaspoon salt
¼ teaspoon cayenne pepper
2 large yellow onions
½ cup cilantro, chopped
3-4 garlic cloves, chopped
1 teaspoon red chile paste
Juice of 1 lime
Instructions
Add the brown rice to a large pot over medium heat. Sauté the rice until it begins to brown.
Add the vegetable broth, crushed tomatoes, paprika, cumin, salt, and cayenne pepper. Raise heat to high, cover the rice, and allow to boil.
Once about half the liquid has been absorbed, add the onions, cilantro, garlic, red chile paste, and lime juice.
Reduce heat to medium and allow the rice to simmer, covered, until all the liquid has been absorbed.
Serve hot and enjoy!