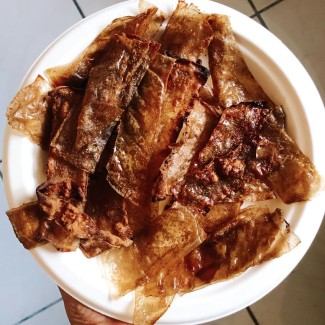 These vegan "bacon" pieces are chewy, crispy, and take just minutes to make!
Ingredients
6 brown rice paper roll wrappers
2 Tablespoons liquid aminos
2 Tablespoons water plus additional water to dip wrappers
1/2 Tablespoon toasted sesame oil
1/2 Tablespoon pure maple syrup
1/2 Tablespoon onion powder
1 teaspoon garlic powder
smoked paprika or cayenne pepper to taste
Instructions
Score rice paper roll wrappers with a sharp knife and snap into pieces according to desired size of bacon.
Prepare a baking dish with water filled to halfway.
Whisk together all "bacon" ingredients except wrappers to form marinade.
Take a piece of rice paper wrapper, dip in tray of water, then dip in marinade and lay on lined baking tray. Repeat with a piece that is similar in shape and size and lay on top of first piece. These two pieces stuck together form one bacon strip. Repeat with remaining rice paper pieces, making sure to pair similar shapes and sizes.
Air fry or bake for about 4-5 minutes, watching carefully to ensure bacon is just crisp but not burnt.