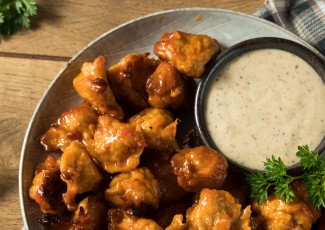 This sticky, saucy, scrumptious Vegan Garlic Chicken is the perfect meal! It's ready in under half an hour and has amazing flavor!
Ingredients
3 cups soy curls, rehydrated
10 cloves garlic, minced
1-inch piece of ginger, minced
1 red bell pepper, diced
1 Japanese eggplant, diced
Toasted sesame seeds and green onion for garnish
Sauce
2 Tablespoons pure maple syrup
1/4 cup water or vegetable broth
1/2 cup aminos
1/2 teaspoon onion powder
fresh juice of a lime
1 teaspoon arrowroot starch
Instructions
Whisk together the sauce ingredients in a small bowl. 
Heat a saucepan over medium heat and add the garlic and ginger. Cook for 1-2 minutes, then add bell pepper and eggplant. Cook for 3-4 minutes, then add rehydrated soy curls and sauce. Toss to coat soy curls and veggies with the sauce and cook until sauce is thick. If it gets too thick, add a splash of vegetable broth or water. 
Remove from heat and sprinkle with toasted sesame seeds and green onions.
Enjoy!