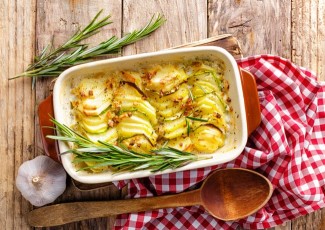 The most delicious vegan scalloped potatoes - super cheesy, creamy and comforting! Perfect as a holiday side dish or for weeknight dinner.
Ingredients
Cheesy Sauce:
1 cup cashews
2 cups non-dairy milk
1 cup vegetable broth
2 Tablespoons arrowroot flour
1/4 teaspoon cayenne pepper
1/2 cup nutritional yeast
1 teaspoon salt
1 teaspoon onion powder
1 teaspoon garlic powder
Potatoes
7-8 medium Yukon gold potatoes, thinly sliced
1 medium onion, diced
Fresh herbs to garnish
Instructions
Preheat oven to 400F. Grease a 9x13 baking dish. Set aside.
Soak cashews in boiling water for about 15 minutes, then drain.
Add all ingredients for the cheesy sauce to a blender and blend on high for about a minute, until completely smooth. The sauce will be very thin at first but don't worry as it will thicken up while baking. 
Spread a layer of potato slices, followed by diced onion, then pour half the sauce over them. Add a final layer of potato slices and top with remaining sauce.
Bake for 1 hour or until top is golden brown and potatoes are tender.
Allow the scalloped potatoes to rest for at least 10 minutes, then garnish with fresh herbs. Enjoy!