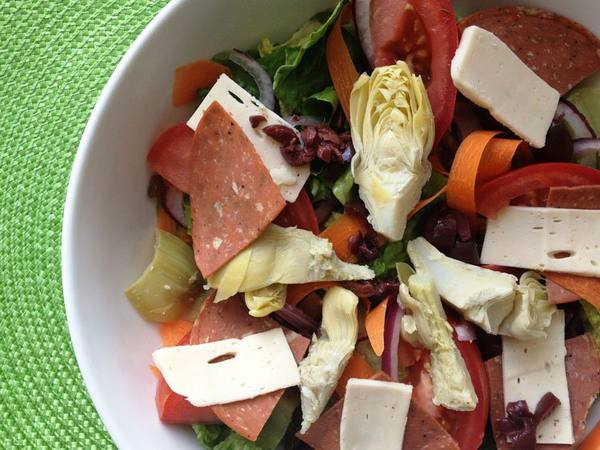 Vegetarian Antipasti
A classic Italian dish that is flavorful and versatile.
Updated: Tue, 04/03/2018 - 10:15pm
Ingredients
Salad
1 head chopped Romaine lettuce
2 tomatoes, wedged
¼ cup sliced red onion
6 slices vegetarian salami, quartered
¼ cup kalmata olives
1 carrot, ribboned
1 cup artichoke hearts
¼ cup sliced vegan cheese
Salt and pepper to taste
Dressing
½ cup olive oil
½ cup red wine vinegar
1 Tablespoon dried basil
1 Tablespoon dried parsley
1Tablespoon dried oregano
½ teaspoon red pepper chili flakes
3 Tablespoons lemon
¼ cup agave
Salt and pepper to taste
Instructions
Place all Salad ingredients in a large bowl and toss together.
In a medium bowl, whisk together Dressing ingredients.
Pour Dressing over Salad and toss gently. Serve and enjoy!