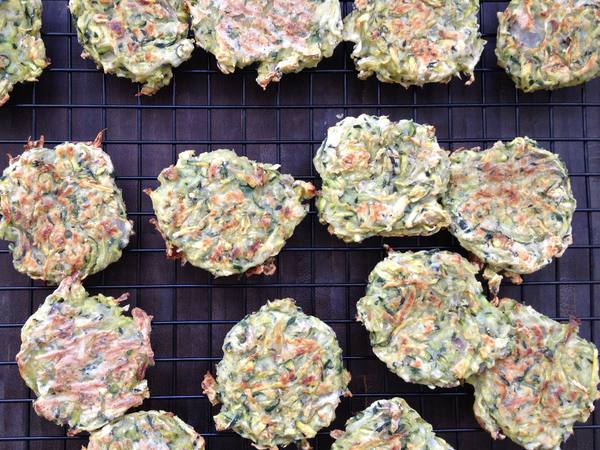 Zucchini Fritters and Herb Yogurt Sauce
These handheld snacks make great pupus or an easy dinner.
Yield:
8-10 Fritters and 1 cup sauce
Updated: Tue, 04/03/2018 - 8:26am
Ingredients
Zucchini Fritters
2 cups shredded zucchini
1 cup plain soy yogurt, divided
1 cup whole wheat flour
3 Tablespoons nutritional yeast
⅓ cup quick oats
¼ teaspoon each salt and pepper
¼ cup safflower oil
Herb Yogurt Sauce
1 cup plain soy yogurt
2 Tablespoons dried dill
½ teaspoon dried garlic
Instructions
To make Zucchini Fritters: In a large bowl, mix together zucchini, yogurt, flour, nutritional yeast, oats, salt and pepper.
Scoop out ¼ cup batter and flatten into a ½" thick patty. Make all patties before continuing.
In a heavy skillet heat oil until bubbling. Add patties and cook until very browned on each side. Layer on paper towels to cool.
To make the Herb Yogurt Sauce: Whisk together remaining 1 cup yogurt, dill and garlic. Let stand 10 minutes before using. When ready to serve, drizzle sauce over fritters or put in a ramekin on the side. Enjoy!