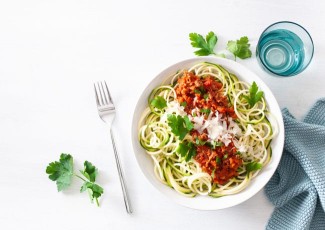 This delicious bowl of healthy pasta features zoodles (zucchini noodles) and lentils as a hearty replacement for meat.
Ingredients
1 cup green lentils
2 cups water
2 Tablespoons expeller-pressed extra virgin olive oil
4 cloves of garlic, minced
1 medium onion, diced
1 25.5 oz jar of pasta sauce
1 Tablespoon Italian seasoning
6 zucchini
Real salt to taste
Shredded vegan cheese for topping (optional)
Instructions
Bring lentils to a boil in water and then lower to a simmer, cooking until water is evaporated and lentils are tender (about half an hour).
While lentils are cooking, warm a tablespoon of olive oil in a pan over medium heat then saute garlic and onion for a few minutes, until fragrant and translucent.
Add pasta sauce, Italian seasoning, and salt to taste, then cover pan and continue to simmer for 15 minutes.
Add cooked lentils to the sauce and continue simmering for 5 minutes.
Chop about half an inch off both ends of the zucchini and spiralize into noodles.
Saute zucchini noodles in remaining olive oil for 5 minutes, until the green brightens.
Top noodles with lentil sauce and sprinkle with vegan cheese.