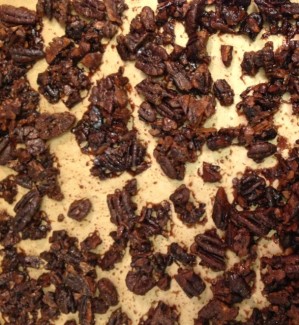 Sweet, crispy and so easy to make! Use a crunchy topping for any of your favorite desserts or a sweet snack.
Ingredients
1½ cup whole pecans
¼ teaspoon cinnamon
¼ teaspoon nutmeg
1 Tablespoon butter or vegan butter, softened
3 Tablespoons maple syrup or honey
Instructions
Preheat oven to 375°. Line a baking sheet with parchment paper.
Combine pecans, cinnamon, nutmeg, butter, and maple syrup together in a small bowl. Pour onto baking sheet and spread out into a single layer.
Bake for 15 minutes. Remove from oven and let cool completely. Serve as a crunchy topping on your favorite dessert. Enjoy!