Leek Socca with Cashew Cheeze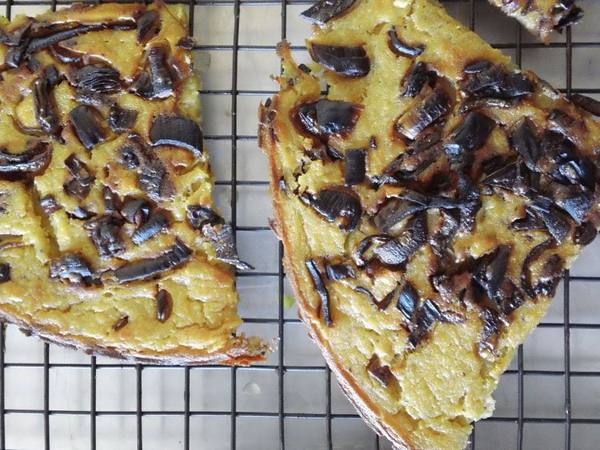 Socca is a chickpea flour pancake/flatbread, originating from the Mediterranean. It's delicious, versatile, and gluten-free!
Ingredients
Leek Socca
1 cup chickpea flour
1 cup water
½ - 1 teaspoon salt
½ teaspoon black pepper (more to taste)
2 Tablespoons olive oil + 2-4 Tablespoons more
1 cups finely minced leeks
Cashew Herb Cheeze
1 cup cashews, soaked one hour and drained
½ teaspoon sea salt
2-3 Tablespoons fresh lemon juice
1 Tablespoon tahini
¼ cup fresh cilantro leaves
¼ cup water
Instructions
SIFT chickpea flour into a bowl. Whisk in water, salt, pepper, and 2 Tablespoons olive oil. Let stand half hour (up to 12 hours).
Preheat oven to 450º. Add chosen pan into oven to preheat.
Meanwhile, heat 2 Tablespoons olive oil in a skillet. Sauté leeks until just slightly browned. Remove from heat and set aside.
Add 1-2 Tablespoons olive oil to preheated pan then line with parchment paper. Sprinkle cooked leeks on top of batter.
Transfer to oven and bake 12-15 minutes. Socca should be firm in the center and edges should be set. Switch oven to broiler setting, and move oven rack close to the top if needed. Broil for 3-5 minutes, until top just starts to brown in spots.
For the Cashew Cheeze: Grind cashews and salt in a food processor or blender until fine. Add remaining ingredients, blend until smooth, adding water as necessary for texture. Cheeze should be smooth and spreadable, but not pourable.
When Socca has cooled, spread Cashew Cheeze on top or serve as a dip. Enjoy!
Note: This recipe will work in a 9 or 10-inch pan ONLY. You can use a cast-iron skillet, springform pan or a cake pan- but a 9-inch glass pie plate works the best. Also, parchment paper is a must to ensure an intact Socca- have this ready before you preheat the pan.