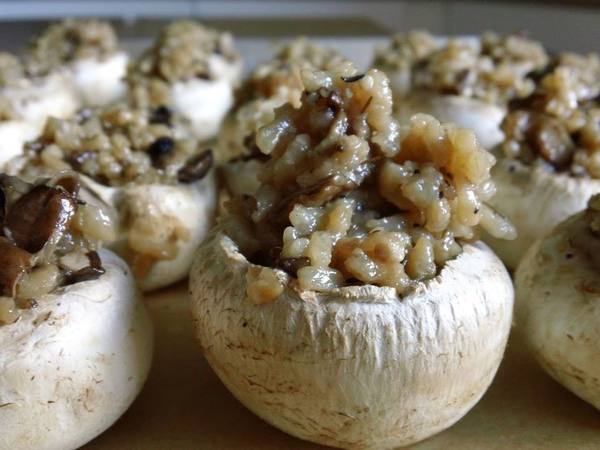 Risotto-Stuffed Mushrooms
Risotto is slightly time consuming, but this beautiful appetizer is worth the extra time!
Yield:
32 mushrooms, or 8-10 small servings
Updated: Tue, 04/03/2018 - 9:44pm
Ingredients
32 large button or cremini mushrooms
1 cup mixed chopped mushrooms (Portabella, Shiitake, etc.)
3 Tablespoons olive oil
½ cup minced red onion
¾ cup Arborio rice
1 Tablespoon garlic flakes
½ teaspoon dried thyme
2 Tablespoons mirin
2 cups vegetable broth
Salt and pepper to taste
Dried basil, to taste
Instructions
Gently remove stems from button/cremini mushrooms and set aside. Lay caps upside down on a lined baking sheet. Set aside.
Chop stems and combine with chopped mushrooms.
Heat oil in a stockpot over medium heat. Add onions and sauté for 5 minutes. Add chopped mushrooms and sauté for 10 more minutes or until soft.
Stir in rice, garlic, and thyme. Cook a few minutes to coat rice and then stir in mirin. Cook for 1 more minute or until mirin has evaporated.
Slowly add in broth, season with salt and pepper and bring to a boil. Cover, reduce heat to low, and simmer 18 to 20 minutes, stirring occasionally until most liquid is absorbed. Remove from heat and set aside to cool. This can be made a day ahead of time.
Preheat oven to 400°. Fill each mushroom cap with one heaping Tablespoon rice mixture and garnish with basil.
Bake 15-20 minutes, or until mushrooms are tender and rice begins to crisp on top. Enjoy!