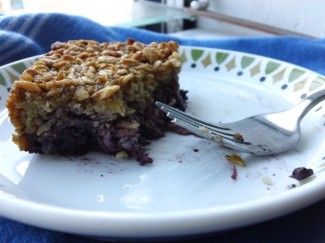 Make this simple baked dish when you have those few extra minutes to spare in the morning- you will be happy you did! Change up the fruits as you like.
Ingredients
1 (10-ounce) package frozen berries
2 cups rolled oats
½ cup quick oats
½ cup ground, toasted almonds
1 teaspoon baking powder
Pinch sea salt
1 cup vanilla-flavored almond milk
½ cup apple butter
¼ cup maple syrup
1 teaspoon vanilla extract
Instructions
Preheat oven to 375º. Layer two cups berries on bottom of pan and set aside.
In a large bowl, combine oats, almonds, baking powder, and salt. Pour oat mixture over berries.
In another bowl combine almond milk, apple butter, maple syrup, and vanilla extract. Pour onto oat mixture and smooth out top. Sprinkle with extra raspberries, if you like.
Bake for 35-40 minutes, until center of oatmeal has set. Let cool slightly before serving. Enjoy!