CBD Green Monster Smoothie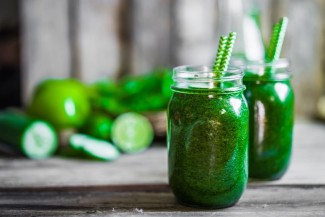 With the addition of CBD, this smoothie can help to make you feel more relaxed. You can also use kava root or valerian root in place of CBD.
Ingredients
1 cup kale
1 cup spinach
1 cup oatmilk (or any other non-dairy milk)
1 Tablespoon chia seeds
2-3 dates, pitted
¼ cup almond butter
1 cup frozen fruit
1 banana, frozen
About 15 drops of liquid CBD
Instructions
Place kale and spinach in the blender, then add remaining ingredients on top.
Blend until smooth and creamy, adding more oatmilk if you desire a thinner consistency.
Serve cold and enjoy!