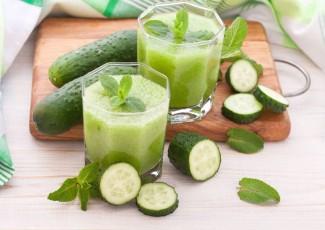 Enjoy the nutritional benefits of cucumber in a sweet, refreshing drink.
Ingredients
3 cucumbers
1 cup fresh mint leaves
¼-½ cup fresh lime juice
2-4 Tablespoons sugar
8 cups sparkling mineral water
Ice cubes as needed
Instructions
Cut cucumbers into halves width-wise. Thinly slice 1 cucumber half for garnish and set aside.
Peel, de-seed and roughly chop remaining cucumber.
Blend cucumbers in a blender or food processor until finely pureed.
Combine pureed cucumbers, mint leaves, lime juice and sugar in a large re-sealable jar. Shake mixture vigorously. Set aside.
Divide cucumber mixture into 4 glasses and add ice as needed./li>
Garnish with cucumber slices and enjoy!