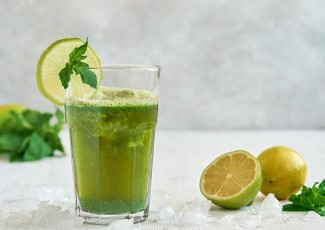 This spa quality mixture for your water could be just the thing that helps you feel great all day long and help clean out toxins and impurities. Lemon naturally cleanses and alkalizes your body. Mint helps aid in digestion, in fact, just a sniff of mint tells your stomach to automatically get ready to digest. Cucumber is re-hydrating and has anti-inflammatory properties. Ginger helps the digestion process and adds a little kick! There's really no right or wrong way to make this recipe. Start with this basic recipe and then adjust to your taste. Too much mint, leave it out! Want more ginger, put more in! This mixture will be good for 3-4 refills throughout the day and then it will start to lose it's flavor and its effectiveness.
Ingredients
1 gallon filtered water or sparkling water
1/2 lemon, sliced or cut into wedges
4-7 mint leaves
1/2 -1 cucumber, sliced
2 thin 1/2" slices of ginger
Instructions
Mix all ingredients together in a large pitcher.
Allow the mixture to chill in the refrigerator for 1-2 hours before drinking.
Drink throughout the day. You can refill the pitcher with more filtered water 2-3 times throughout the day. After that, the flavors will subside as well as its detoxing effectiveness. Enjoy!